Breast Reduction Before and Afters Photos and Pictures
by T. Y. Steven Ip, MD, FACS
Click here to see Educational Background and Professional Affilations.
Educational Background
Plastic Surgery
Duke University Medical Center
General Surgery
Columbia University, New York City
St. Lukes/Roosevelt Hospital
Medical School
Undergraduate University
Board Certification
American Board of Plastic Surgery
American Board of Surgery
Membership and Societies
American Society of Plastic Surgeons
American College of Surgeons
California Society of Plastic Surgeons
Orange County Society of Plastic Surgeons
Orange County Medical Association
Hospital Affiliations:
Hoag Memorial Hospital
Newport Beach Surgery Center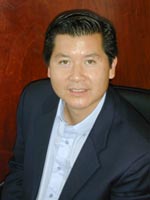 T. Y. Steven Ip, MD, FACS
351 Hospital Rd., Suite 319
Newport Beach, CA 92663
(949) 548-0300
Your Breast Reduction Surgery
Women with large breasts experience more than dissatisfaction with body image. They may experience physical pain and discomfort. Overly large breasts and the weight of excess breast tissue can cause pain and physical conditions that can impair a woman's ability to lead an active life. The emotional discomfort and self-consciousness often associated with having large pendulous breasts is an important an issue to many women as the physical discomfort and pain.
If you have large breast that limit your physical activity and cause pain, breast reduction may be right for you. Breast reduction surgery removes excess breast fat, glandular tissue and skin to achieve a breast size in proportion with a woman's body and to alleviate the discomfort associated with overly large breasts. In general, breast reduction surgery will not only correct the functional symptoms associated with large breasts, but will also result in better proportioned breasts, enhancing a woman's body image and self-confidence.
Breast reduction is a highly individualized procedure. Choosing to have breast reduction surgery is a very personal decision. Every patient's body and breasts are unique and different. In addition, every patient's desires and goals are unique and different. By giving his personal attention to every detail, Dr. T. Y. Steven Ip aims to create the best possible breast reduction result for your body.
For more information on breast reduction surgery, you can contact our office at (949) 548-0300