Calf (Calves) Implant Plastic Surgery Specialist, Serving San Diego and Southern California
Click here to see Educational Background and Professional Affilations.
Educational Background
Plastic Surgery
Duke University Medical Center
General Surgery
Columbia University, New York City
St. Lukes/Roosevelt Hospital
Medical School
Undergraduate University
Board Certification
American Board of Plastic Surgery
American Board of Surgery
Membership and Societies
American Society of Plastic Surgeons
American College of Surgeons
California Society of Plastic Surgeons
Orange County Society of Plastic Surgeons
Orange County Medical Association
Hospital Affiliations:
Hoag Memorial Hospital
Newport Beach Surgery Center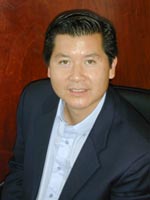 T. Y. Steven Ip, MD, FACS
351 Hospital Rd., Suite 319
Newport Beach, CA 92663
(949) 548-0300
Your San Diego Calf (Calves) Implants Surgery
In Southern California and San Diego, the beautiful weather allows for an active and healthy lifestyle. Looking good and feeling good can goes hand in hand. A well proportion body can add to one's self-confidence.
The condition of under-developed or small calves is not uncommon in males or females in any age group. Despite aggressive exercise or change in diet, calves may always be small in size. Sometimes the under-developed calves can be due to a hereditary problems, disease, or injury. Under-developed calves can be both a physical problem and emotional problem. Patients can have loss of self-confidence due to the appearance of their calves and avoid wearing certain items of clothing.
If you have under-developed calves, calf implants surgery may be right for you. In general, calf implants are silicone implants that are placed in the calf region to enhance the size and look of your calves. The calve implants will a small incision behind the knee in the subfascial layer of the calve muscle. The calf implants can be placed on the medial (inner) and lateral (outer) calves depending on the deficiencies of your calves. The result is a better, more proportioned lower leg and the freedom and self-confidence to lead an active life.
Calf (Calves) Implants surgry is a highly individualized procedure. Choosing to have calf implants surgery is a very personal decision. Every patient's body features are unique and different. In addition, every patient's desires and goals are unique and different. By giving his personal attention to every detail, Dr. T. Y. Steven Ip aims to perform the best possible calf implant surgery result for your body.
For more information on calve implants surgery, you can contact our office at (949) 548-0300