Chin Surgery and Chin Implant Plastic Surgery Specialist, Serving Orange County and Southern California
Click here to see Educational Background and Professional Affilations.
Educational Background
Plastic Surgery
Duke University Medical Center
General Surgery
Columbia University, New York City
St. Lukes/Roosevelt Hospital
Medical School
Undergraduate University
Board Certification
American Board of Plastic Surgery
American Board of Surgery
Membership and Societies
American Society of Plastic Surgeons
American College of Surgeons
California Society of Plastic Surgeons
Orange County Society of Plastic Surgeons
Orange County Medical Association
Hospital Affiliations:
Hoag Memorial Hospital
Newport Beach Surgery Center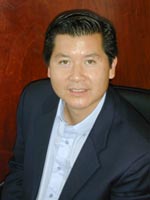 T. Y. Steven Ip, MD, FACS
351 Hospital Rd., Suite 319
Newport Beach, CA 92663
(949) 548-0300
Your Orange County Chin Surgery and Chin Implant
In Southern California and Orange County, the beautiful weather allows for an active and healthy lifestyle. Looking good and feeling good can goes hand in hand. A well proportion body can add to one's self-confidence.
Having a harmonious balance in your face is an ideal trait, that is important in facial aesthetics. The chin, which affects the lower third of the face, is a very important part of establishing a harmonious balance. Having a chin that is too large or too small, can affect your overall look. It can masculinize or feminize the face.
Chin surgery and chin implants are surgeries that can improve the facial balance of the lower third of your face. In general, the chin surgery and chin implants can reduced or augmented the size of your chin. The chin can be increase or decreased in width and height. The chin can also be improved in projection forwards and backwards.
Chin surgery and chin implants is a highly individualized procedure. Choosing to have chin surgery or chin implants is a very personal decision. Every patient's facial features are unique and different. In addition, every patient's desires and goals are unique and different. By giving his personal attention to every detail, Dr. T. Y. Steven Ip aims to perform the best possible chin surgery / chin implant result for you.
For more information on chin surgery or chin implants, you can contact our office at (949) 548-0300